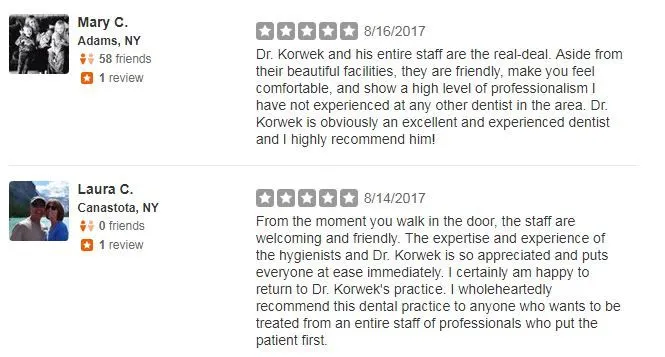 jeff leech - Very friendly staff. I was on my way in no time at all
Jesse Naputi - Don't think just set up an appointment! I found Dr Korwek via off post referral, twice I was referred and twice I was blown away with such skills. My 1st experience is how I found a Dentist for my family, I was blessed to have him take care of my family while deployed. Knowing that anything dental work needed to be done, my family will receive honest quality work, professional service and a safe environment.
Mister SACON - New office is great. Dori the hygienist is super and ladies at front desk are very helpful.
Brad Taylor - Great new office, staff and Dr. Korwek are the best around.
Mark Strader -I have known Dr. Korwek for 30 years. I have experienced wonderful care at each and every visit. The new office makes it even better. Over the years I have had fillings and crowns and root cannels and not so simple extractions. I trust in Dr. Korwek and his staff. And a hats off to the office staff who always help you to feel at easy and make the best of what may not be your favorite thing to do. Going to the dentist. I would recommend Korwek Family Dental to everyone. Mark Strader
Piggyroaster 316 - I'm a 35 year old who was absolutely terrified of the dentist. That was until I became a patient of Dr. Korwek and his staff. They are nothing but professional and are able to make an otherwise unpleasant experience a great one. Thank you folks for everything and I'm actually looking forward to seeing you guys again soon. Happy holidays!
John fromm - Had another great experience at Korwek Family Dental. In and out quickly and completely painless. They have a beautiful new facility with the latest dental technology and nice outside views from every chair. Excellent treatment by Dr Korwek and his dental technician. And that's what sets this practice apart from others, every one here is happy and friendly, makes you completely forget your at the dentist.
Cassidy Davis - Love the new office!!
Joe Paige - My visit to Dr. Alexander Korwek's office today was absolutely spectacular. The staff is great, very helpful and energetic. I would highly recommend going there.
Gary Davis - Outstanding dental office. At my visit they went above and beyond from start to finish. Very friendly and welcoming setting. Prompt and professional service from what I've been use to with my previous office. Wondering why I didn't make the switch sooner. Thank you Korwek Dental!
Robert Artle - I can't say enough about how amazing Dr. K and the entire staff are at Korwek Dental. Dr. K is patient, an excellent dentist, is very understanding and most importantly, is a magician with dentistry. I just went to see him this past week for some fillings; not only was I in and out of the office, but I had zero pain. I am not sure how he did it? Very thankful!
Kim B - Had the best dental experience! Beautiful office. Very welcoming and friendly. Thanks Dr. Korwek and Staff :)
Alyssa Sanders - Great dentist and friendly team. He has a way to make you feel comfortable and at ease. He is very patient and works efficiently. Highly recommend! He shattered all my irrational fears and made the whole process quick and painless. Thank you Dr. Korwek and your AMAZING team!